The Cook House IS ALIVE AND ACTIVE AGAIN!
Since this past May we focused on commemorating the 150th anniversary of the Civil War and the assassination of President Lincoln. Diana Dretske, Historian of the Lake County Discovery Museum visited us again presenting "From the Home Front to the Battlefield" talking about Lake County residents' eventual involvement in the Civil War.

Sunday, June 7th- The town of Wauconda held its annual "Historic Walk" where visitors were greeted by docents who gave them the "back story" of several old Wauconda downtown buildings. The Cook House was featured and tours were offered.
Just before the 4th of July we opened the Cook House for complimentary tours before enjoying a concert under the stars and ice cream treats in partnership with the Wauconda Area Library. Later that month, we presented "A Soldier's Life" along with Civil War era music, Civil War and Lincoln antiquities on display and tours of the Cook House.

On Sunday, August 23rd the Wauconda Township Historical Society celebrated its 1 year Anniversary of our reopening. Over 170 visitors from surrounding communities came to picnic with us on the back lawn of the Cook House and enjoy delicious pie from Mariano's, ice cream and lemonade. We were serenaded by the Wauconda High School Varsity Choir directed by Mr. Jeffery McQuaid. We were entertained by an old fashioned High Wheeler Bicyclist. Our local Girl Scout Troop provided old fashioned children's games and the kids took home bubbles and candy. Over 130 visitors took a complimentary tour of the interior of the Andrew C. Cook House, recently renovated, containing many interesting displays.
We are proud to say that this was our biggest and best event yet! As one looked around the picnic area, you had to wonder if it might have looked like at a Social on the Cook Farm over 100 years ago. All those folks, some just meeting for the first time, chatting and laughing, kids and adults playing games, the choir sharing their wonderful tones, and crowds of visitors lining up for tours all afternoon. Andrew and Mary Cook must have been smiling all day!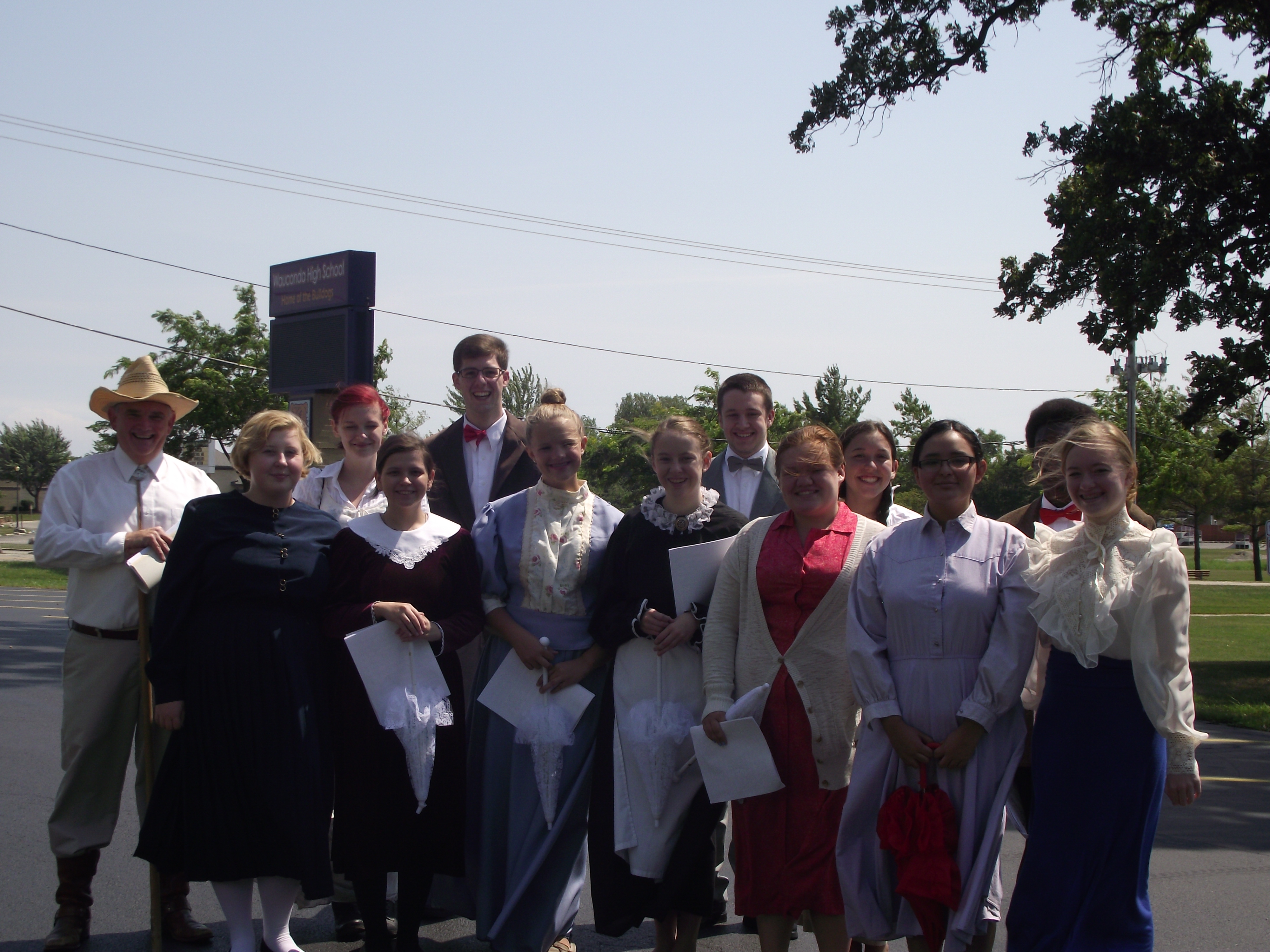 The Wauconda High School Varsity Choir directed by Mr. Jeffery McQuaid serenaded the visitors at our recent Ice Cream/Pie Social.